Principles of Strength and Conditioning in Injury Rehabilitation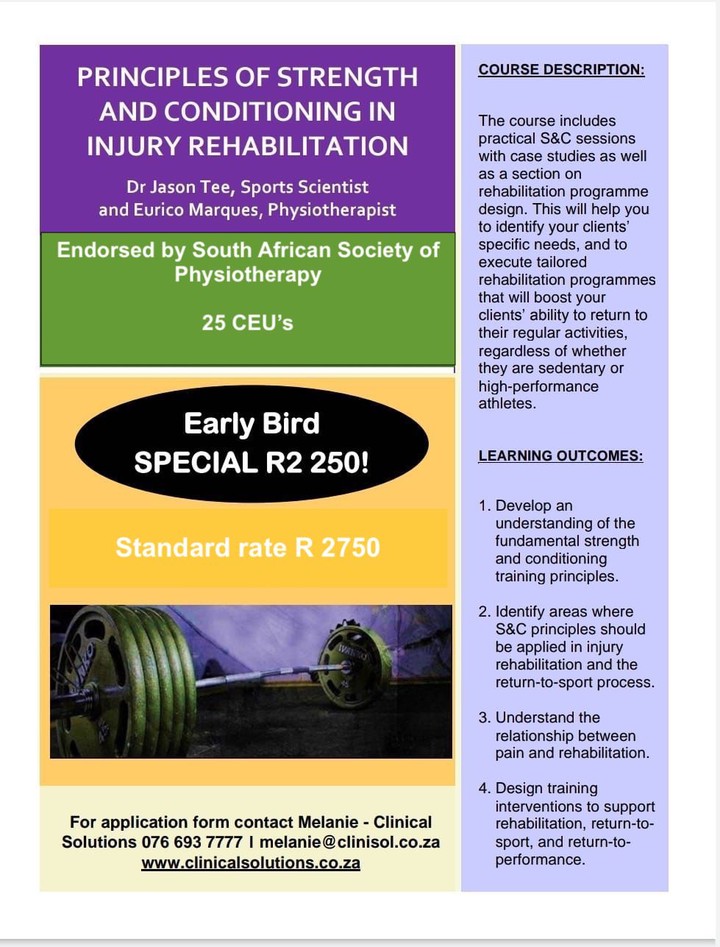 This course facilitates the development of fundamental understanding of strength and conditioning training principles for sports injury rehabilitation. Participants will be provided opportunities to undertake practical based S&C sessions through case studies and design rehabilitation programs to enhance rehabilitation, return to sport and sporting performance of their clients.
Course Dates and Venues
4 to 5 September 2021 - Cape Town 30 to 31 October 2021 - Durban 20 to 21 November 2021 - Windhoek
Course Facilitators
Eurico Marques, B.Sc. Physiotherapy
Eurico is a former professional soccer player who has been practicing as a physiotherapist since 2013. Eurico is an expert in the support of youth athletes, and has a special interest in supporting the journey between the end of clinical rehabilitation and return to performance sport.
Jason Tee, PhD
Jason has >10 years experience working as a strength and conditioning coach with athletes ranging from talented youth to elite and intenational participants. Alongside his practical experience as a coach, Jason is a nationally ranked research scientist with over 500 research citations focused on sports injury prevention and athlete preparation.
Learning Outcomes
Develop an understanding of the fundamental strength and conditioning training principles.
Identify areas where S&C principles should be applied in the injury rehabilitation and return to sport process.
Understand the relationship between pain and rehabilitation.
Design training interventions to support rehabilitation, return to sport and return to performance.
Course Content The indicative content is based around four core themes:
Scientific Principles of Strength and Conditioning Training and link to rehabilitation
Rehabilitation/S&C Program Development
Rehabilitation and Pain
Managing motivation and boosting compliance
Bookings To register for the next course visit www.clinicalsolutions.co.za